We are two recovering engineers brought together by a love of the outdoors. We are always brainstorming and innovating to enhance our experience out on the trails. Our goal is to bring you elegant, functional products that are produced in a socially and environmentally conscious manner.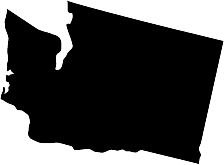 Handmade, Right Here.
We make each ICECOT by hand, right in the heart of Cascadia. We believe our company is a reflection of our values, which is why we donate a portion of our profits to local
causes
aligned with us. Please help us help them.
The ICECOT Creation Myth
The ICECOT came about on a hot summer day in eastern Washington during the 12 Hours of Badger — a small event that involves running as many laps as possible over Badger Mountain in a 12 hour period. The temperature was 65 degrees at the 7 am start, but rose into the high 90's by mid-day as the sting of sun burn and visions of Slurpees started to take their toll. I had started the day wearing a tank top but went shirtless by late morning. My truck, parked at the trailhead, served as an aid station stocked with ice and drinks. On lap 3 I filled my tank top with ice, rolled it up, wrapped it around my neck, and slid the hem through the arm holes. I modeled my new fashion statement to my companions as an ice-filled ascot. Thus, the ICECOT was born: a simple way to stay cool during hot weather.